In a world of constant communication, there are endless methods of communicating with your customers. However, none of them are as tangible as direct mail. When it comes to sending messages directly to your customers, you can't afford to not catch their eye. That's why in everything we do here at Integrity Statements, we strive to be the most creative and engaging mail printer out there. Let's talk about changing up your print strategy.
Spark Engagement
On the more creative side of direct mail pieces are invitations, promotional, informational, or marketing pieces. In this area, we take creativity to the next level. Here at Integrity Statements, we want to always push our imagination further. In order to succeed, thinking outside of the box is mandatory. 
The following is an example of a direct mail piece for Integ's, Integrity Statements parent company, Annual Christmas Party. They wanted to create an engaging print piece that would allow for discourse between them and the recipients of the invitation. To accomplish this goal, the invitation transformed into a wearable Santa beard that the recipients could take pictures with and post on social media using a unique hashtag. Not only did this create an engaging invitation that sparked interest in the event, but showcased the creative boundaries Integ is willing to push to increase engagement. 
Read more here about our award-winning invitation.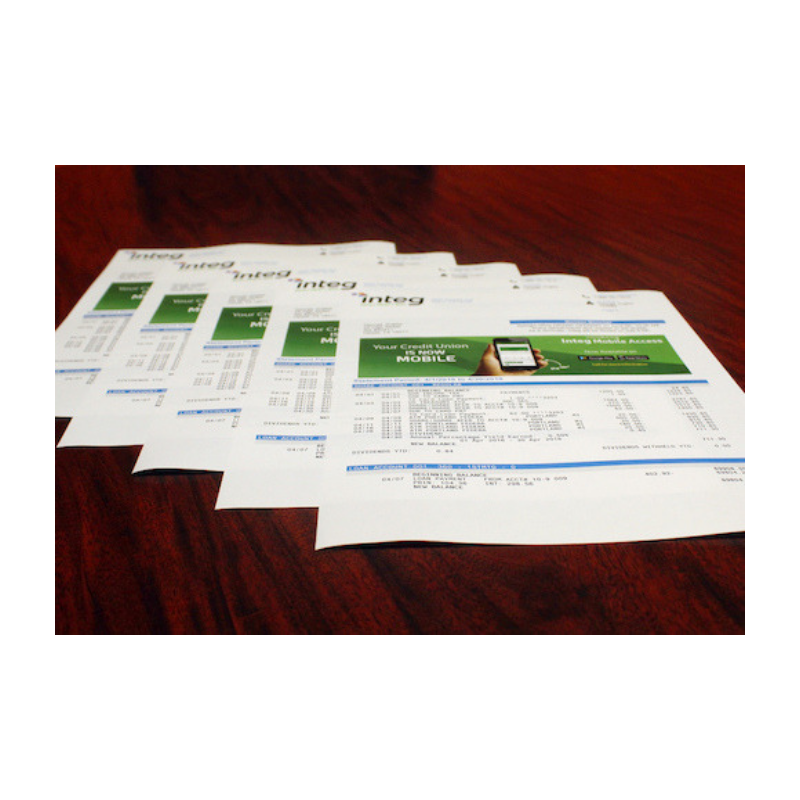 All Projects are Creative Projects
At Integrity Statements, we don't see a dividing line between more exciting projects versus less exciting projects. There aren't creative pieces and non-creative pieces. With every run, with every project, we see an opportunity for connection. You want a mail printer that can transform your invitations, statements, promotional mail, bills, notices, and more into something engaging. 
Here is an example of how we've revamped the following bank statement design. Now, instead of seeing a bland black and white document, there is color, graphics, and information presented in a stimulating way. 
Let Integrity Statements be the mail printer that revolutionizes your print strategy. 
Think outside the box.