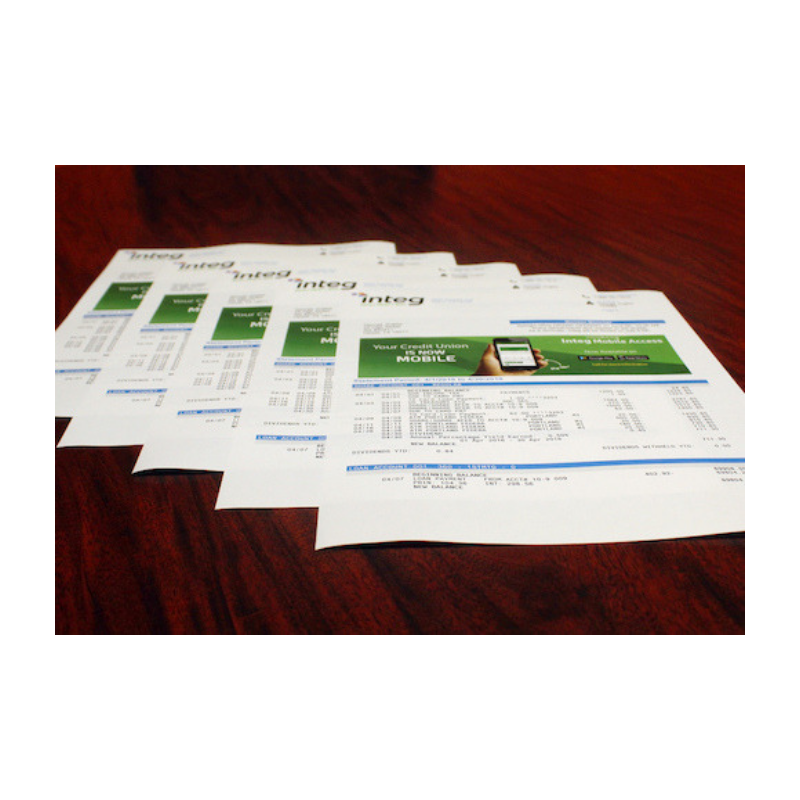 We get it. Outsourcing your financial institution's statement printing is releasing control of something you've done the same way for years. Because of this, customers rely on efficient and quality service. Every company and institution is unique. Therefore, it's important to think about the pros and cons of outsourcing and see if it makes sense for your organization. In light of this, we've simplified the long list of reasons to outsource down to 3 of some of the most beneficial. 
3 Reasons to Outsource
Reduce Printing Costs

Outsourcing can eliminate capital expenditure on print hardware and supplies. Outsourcing the complete process to a highly secured and privacy accredited company is economically beneficial. Integrity Statements houses the hardware and software to accommodate all of your printing needs while treating your customer's information as their own.
Reducing postage expenses by outsourcing can also save your company money. Integrity Statements has the volume to ensure you receive the greatest discounts for processing First Class pre-sorted mail. Our on-site USPS office ensures the proper process and delivery of each piece of mail that is handled.
Reduce or eliminate postage meter leasing expense by using a company that utilizes automation to process and deliver over a million pieces of mail each month to USPS.

Drive Revenue with Creative Marketing Strategies 

Within your customized Statement Delivery process, a company like Integrity Statements allows you to utilize data for intelligent and unique marketing messages for printed statements and e-statements.

Improve and Manage Client Communications

Client communication is vital in maintaining a healthy relationship. With multi-channel marketing tools, there are opportunities for trans-promo statement messages. This allows for c

lient notifications by email or text message.
Above all, your priority is to reach your clients and service all their financial needs. So, remind your clients why they chose to trust your financial institution and offer quality and innovative statement printing options. Choose from the customized statement with marketing messages and follow up with your service offerings and marketing strategies by email or text message. After all, statement printing is more than just a necessary service you offer. It's an opportunity to cross-sell services and remind your customer why they trust your company for all their financial needs.
Contact us today to get started!